Have you ever been put in a situation where you needed to make an impression? It is one of those situations where you know everyone will make that extra effort to be noticed. Maybe you have a wedding of the year to attend, crucial work done or an invite to a chic party; for once, you want to be the envy of the room and make a good impression. Whether it be a business or a personal event, we can provide you with the ultimate accessories to guarantee you'll get noticed for all the right reasons.
That Added a Wow Factor
Our beautiful London escorts are no strangers to being wined, dined, and attending such events. Believe us, if you want to dress to impress, what better way than to turn up with a gorgeous, sophisticated and sexy young lady on your arm? Our girls guarantee the wow factor. They are no strangers to meeting new people and adapting to various situations. You'll find that they do make the ultimate accessories for any case. So put your socks back on and practice a superior smirk. Everybody you know will think you're pretty super to have one of our London escort girls staring at you. The men and women both. It could open new vistas when you think about it. Your stock should zoom several points higher than before you arrived.
All of our beautiful young ladies can be found in the main gallery. You'll find a description for each escort and can view their complete profile and photos. However, if you need guidance in choosing your ultimate accessories, we have added a few of our favourites below.
Expensive escorts for high-end events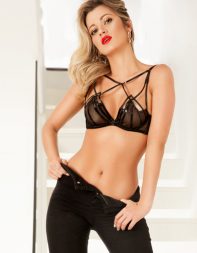 Cleo is the perfect high-end escort for any discerning gentleman. She is loving, affectionate and alluring and as soon as you look at her, you'll know you've found someone special. Those big brown eyes, her seductive curves, and her ability to please make her one of London's elite girls. She's a rare and captivating beauty who will enchant you from seeing her. She makes an excellent social companion for any occasion and is perfect for upmarket events and social gatherings. Above all, Cleo is sophisticated, elegant, charming and always delightful company.
Fun Escorts For Parties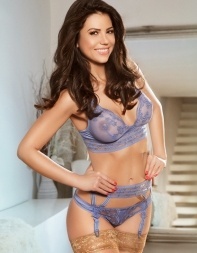 If you want sexy, adventurous and open-minded, Ariana is the one for you. Her love for life ensures that time spent with her is always full of fun and excitement. She will tease, please, and throw herself into providing you with the centre of attention. Ariana is up there with the best when it comes to our top London Party girls. After a few hours in her company, you'll think you've died and gone to heaven. This escort lights up a room as soon as she enters, and as soon as you meet her, you'll know you're in for a fun time. Therefore, this fun-loving escort is ideal for chic parties and nights out.
The Perfect Plus One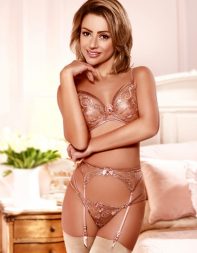 Federica has a sweet personality and a gentle nature that ensures she's enjoyable and relaxing company. She's polite and friendly and the perfect choice for anyone looking for that genuine girlfriend experience. Federica is the ideal escort if you like to be pampered and treated like a king. She loves to please and is a beautiful choice for social events as your stunning plus one. She is stunningly beautiful, and her presence is engaging and addictive. You cannot help but smile when you're in her company.
So there you have it. Our top 3 choices and the ultimate accessories for any event. Remember that we're open 24/7, and our helpful receptionist is happy to help assist you. Therefore, finding the perfect companion, whatever the occasion, couldn't be easier.